You can lose your contacts knowingly or unknowingly and this can be very frustrating. Getting those lost contacts back isn't easy as there are very few options available.
In view of this, Android has provided for its millions of users, features to help them restore lost or deleted contacts on their Android device.
So in this article, I will show you two simple methods on how to restore lost or deleted contacts on your Android device.
METHOD 1 – RESTORE LOST OR DELETED CONTACTS WITH GMAIL
Fact that you use an Android device means you automatically have a Gmail account. The data on your Android device which includes your contacts are all synced to your Gmail account. That means when you lose your contact or accidentally delete them, you can easily restore them via your Gmail account.
To restore your lost or deleted contacts with your Gmail account, open https://www.google.com/contacts/ and log in with the account associated with your Android device.
Once logged in, all your contacts will be listed, including the ones you lost or mistakenly deleted. All you have to do is save them to your phone.
[irp posts="1158″ name="How To Access Your PC Hard Drive With Your Smartphone"]
METHOD 2 – RESTORE LOST OR DELETED CONTACTS WITH MOBIKIN DOCTOR
MobiKin Doctor is another awesome utility tool for Windows and Mac that you use to manage your contact. With MobiKin Doctor, you can recover lost, deleted, or formatted contacts on your Android smartphone.
Step 1. First of all, download and install MobiKin Doctor on your PC and launch the tool.
Step 2. Run the software and connect your phone to the computer through a USB cable. Make sure to turn on the USB debugging mode on your Android device.
Step 3. Now a pop-up window will appear, then you need to check your phone and on the phone tap on "Allow". You will see the interface like below on your computer screen where you need to click on "Next"
Step 4. Now the software will look for the deleted contacts on your Android, wait for few seconds or minutes. Once analyzed, you will get to recover your desired contacts.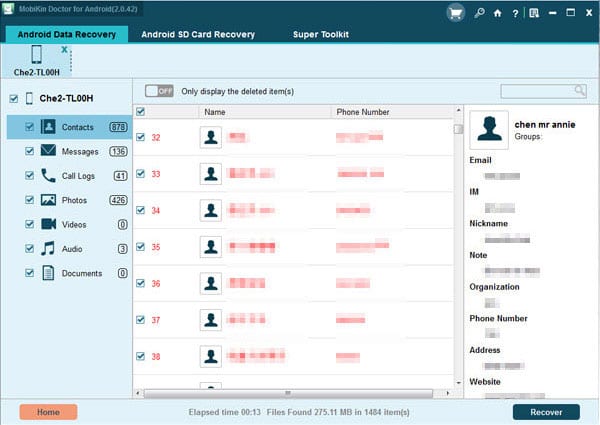 That's it, you are done! With the above-mentioned methods, you can recover any lost or deleted contact on your Android device.
[irp posts="1106″ name="How To Send WhatsApp Messages Without Saving The Contact"]